St. John Ambulance of Malaysia (SJAM), a self-funding not-for-profit organization, being a leader in first aid, home nursing, humanitarian services, ambulance service and first aid training for everyone. With over 60,000 volunteers nationwide with more than 3.6 millions man-hours annually in service for mankind, SJAM volunteers always go extra mile to render the service to those in need, regardless of races, society status, religion and creed.

"100 Years of Service to Mankind" - The Centennial Anniversary theme of St. John Ambulance of Malaysia depicts the moments and proud history of this service organisation in the last 100 years. Since its founding in 1908, members of St. John Ambulance from all races have voluntarily and selflessly contributed their service to the people of Malaysia.
In conjunction of celebration, Bank Negara Malaysia was issuing three types of commemorative coins to mark the centennial of the establishment of St.John Ambulance of Malaysia (SJAM). The commemorative coins were launched today by YB Dato' Liow Tiong Lai, the Minister of Health at his office in Kuala Lumpur.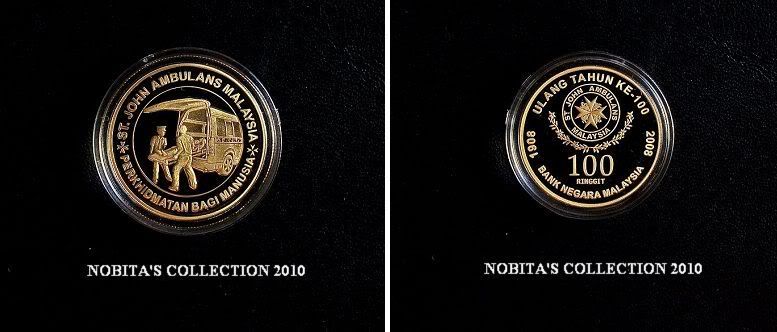 Total Mintage

:

250

pcs (inclusively proof set of 3)


Face Value

: RM100


Condition

: Proof


Composition

: purity 0.999 of gold


Weight

: 7.96g


Date of issued

: 28/06/2008




Coin Design



The design description of the commemorative coins to mark the Centennial the establishment of St.John Ambulance of Malaysia (SJAM) is as follows:



The Obverse Side of the Coin



The obverse of the coin depicts the SJAM's volunteers providing emergency medical assistance to members of the public. The name "St.John Ambulans Malaysia " appears on the upper circumference of the coin, whilst the official motto of SJAM "Perkhidmatan Bagi Manusia" or "Service to Mankind" appears on the lower circumference.



The Reverse Side of the Coin



The reverse depicts the official emblem of SJAM at the centre of the coin. A plant with yellow flowers "St.John's Wort", an herb used for wounds, burns, insect bites and as a treatment for malaria, is depicted encircling the lower half of the emblem. The upper circumference shows the words "Ulang Tahun Ke-100" signifying 100 years of SJAM's existence whilst the words "BANK NEGARA MALAYSIA" as the issuing authority appear on the lower circumference. The denomination is reflected on the lower centre of the coin.

Sources:

www.webbiz2u.com/06-08/8stjohn.html

www.sjampenang.org.my/about.htm

BNM website